Engipedia Layers Manager FREE, dodatak (add-in) za Revit®
Kreirajte popis ili tablicu (Schedule) s materijalima i debljinama (širinama) slojeva zidova, ploča, krovova i stropova u Revit®-u.

Kratki video u nastavku prikazuje kako koristiti Engipedia Layers Manager FREE dodatak za Revit®:
Dodatak/aplikacija radi sa svim slojevitim Revit® kategorijama.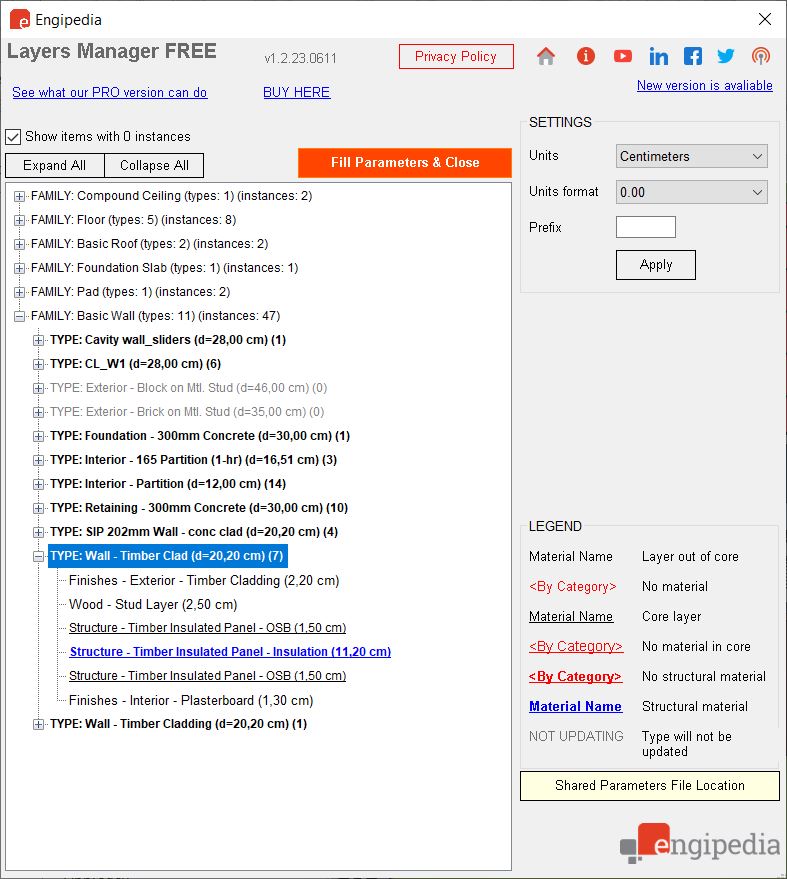 Opis i značajke
Dodatak analizira sve slojevite (uslojene) tipove u Revit® modelu, te ispisuje popis naziva materijala slojeva te debljine slojeva. Materijali slojeva, debljine slojeve te materijali+debljine slojeva ispisani su višeredne (multi-line) tipske parametre (Type Parameters) i to za svih šest slojevitih kategorija:
stropovi/ceilings
podovi/floors
podložni beton/site-pads
krovovi/roofs
temeljne ploče/structural foundation slabs
zidovi/walls
Ovi se parametri mogu dalje koristiti za prikazivanje u oznakama (Tags) i tablicama (Schedules).
Shared Parameters datoteke koje add-in koristi nalaze se u: C:\ProgramData\Autodesk\ApplicationPlugins\Engipedia Layers Manager FREE.bundle\Contents
Osnovne značajke dodatka za Revit®:
Stablo prikazuje sve vrste slojevitih konstrukcija, materijale slojeva i debljine slojeva, i to na način:

crvena boja prikazuje materijale koji nedostaju (

<By Category>

),
slojevi u jezgri (Core Layers)

su podcrtani,

materijali konstrukcije su podebljani i plavi (ili podebljani i crveni ako materijal nedostaje).

Mogu se postaviti mjerne jedinice: milimetri, centimetri, decimetri, metri, decimalni inči i decimalna stopa.
Moguće je mijenjati format prikaza mjernih jedinica: broj decimalnih mjesta i zaokruživanje na nulu.
Novo u verziji 1.2. (11. lipanj, 2023):
Aplikacija radi sa svim Revit

®

inačicama od Revit

®

2016 do Revit

®

2021. Aplikacija više ne podržava starije verzije od Revit

®

2016.
Za pokretanje add-ina morate biti spojeni na internet.
Korisničko sučelje je pojednostavljeno i poboljšano dodatnim tipkama.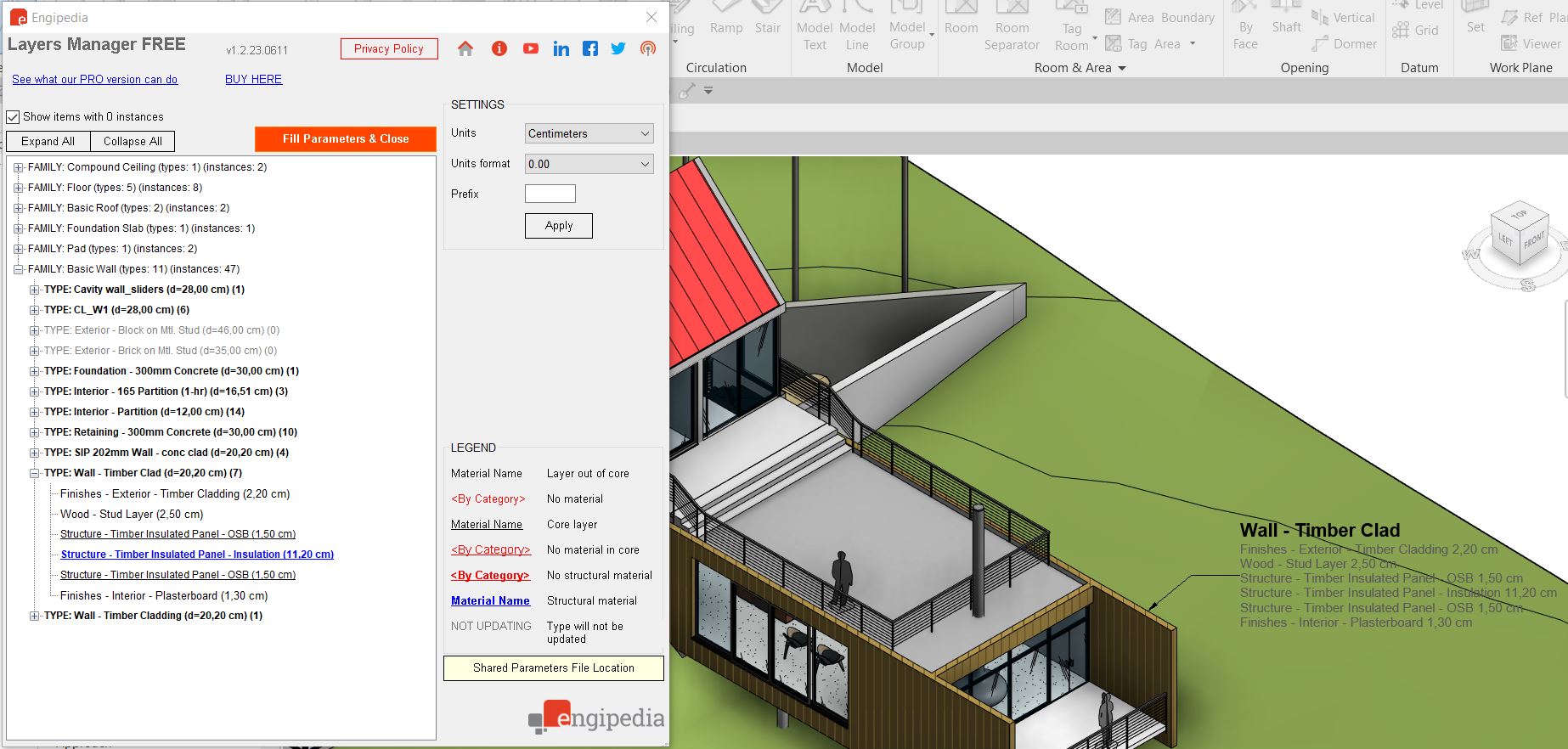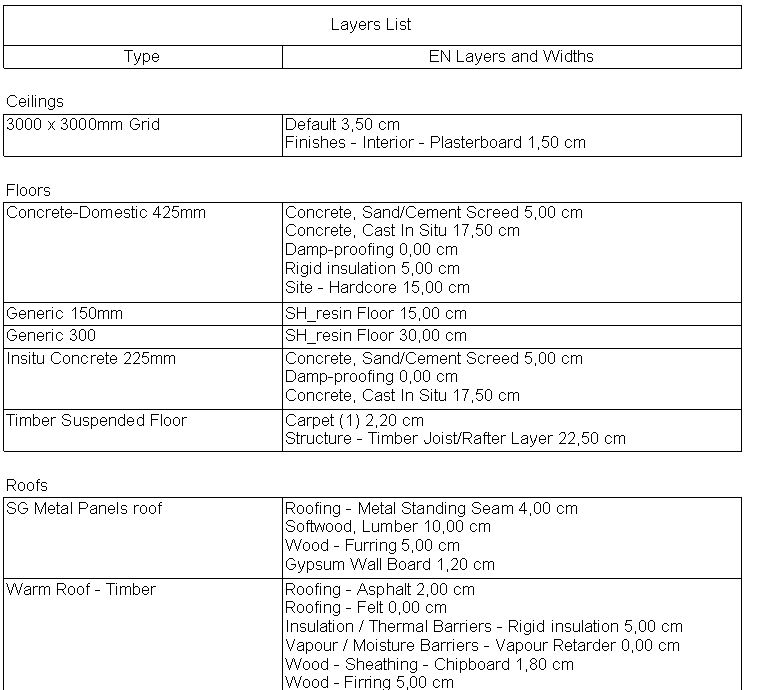 NAPOMENA: Opisani softverski dodatak (Revit® Add-in, "aplikacija") je siguran i napravljen je s najboljim namjerama. Autor je testirao dodatak na svom sustavu, ali ne garantira da će raditi na vašem sustavu, niti može biti odgovoran za potencijalnu štetu. Prvo testirajte dodatak na projektu koji nije kritičan.