Engipedia Layers Manager, Revit Add-in
Schedule wall layers with materials and thicknesses (widths) in Revit.
Here's the short video instructions on how to get it to work:
It works with all layered categories in Revit.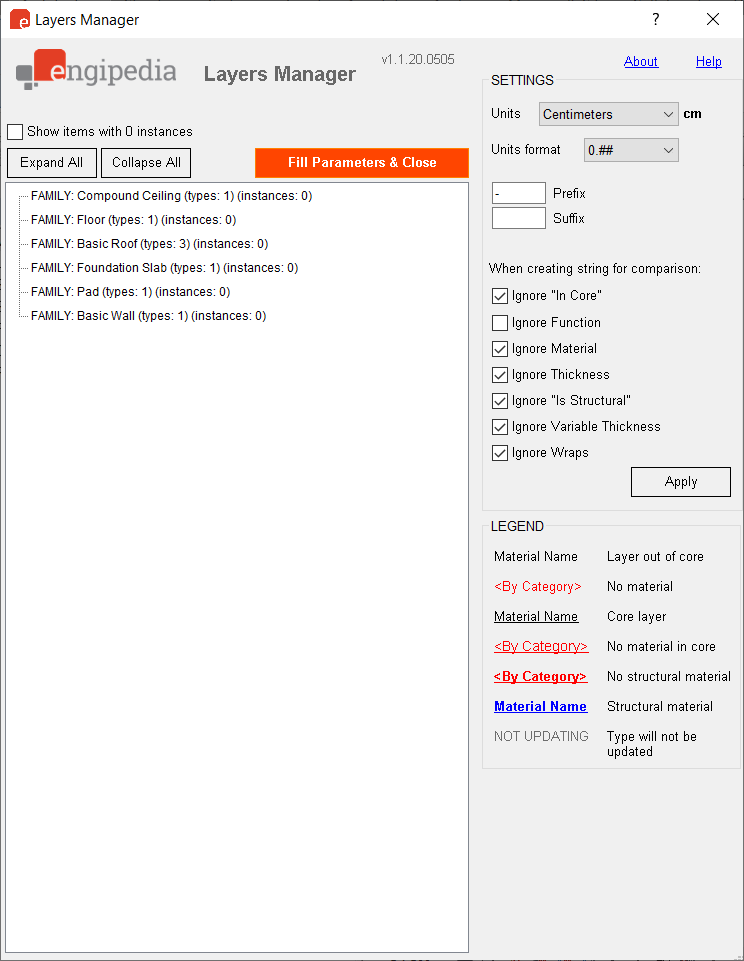 Description and features
Add-in analyses all layered structures in Revit project, looking for material names and layer widths (thicknesses). Materials, widths, and material layers with widths are written into multi-line Type parameters of all six layered categories (Ceilings, Floors, Site > Pads, Roofs, Structural Foundations and Walls).
These parameters can be used to show in tags and schedules.
Shared Parameters files that are used by the add-in are located in: C:\ProgramData\Autodesk\ApplicationPlugins\EngipediaLayersManager.bundle\Contents
Main add-in features:
Tree structure displays all layered structure types, materials and widths (thicknesses), showing:

Red color shows missing materials (

<By Category>

)
Core layers are

underlined

Structural materials are bold and blue (or bold red if the material is missing)

Units can be set: millimeters, centimeters, decimeters, meters, decimal inches and decimal feet
Unit format can be set: number of decimals and trailing zeros
New in version 1.1. (May the Fourth, 2020):
Add-in w

orks with all Revit versions since Revit 2015. Add-in also supports all Revit user interface languages: English, French, German, Italian, Japanese, Korean, Polish, Spanish, Simplified Chinese, Traditional Chinese, Brazilian Portuguese, Russian, Czech.

Add-in shows number of instances of each type as well as total number of instances of layered families.
Elements with 0 instances are shown grayed to visually distinguish from types with instances in model.
Types with 0 instances can be excluded from the tree for easier display.
Prefix and Suffix can be set by user.
Settings changes will not update tree until they are saved by clicking onto Apply button.
Legend is added on the right for easier understanding of layered structures tree colors, underlines and bolded text.
Shared parameters are now added automatically.
There are two new shared parameters: EN Do Not Update and EN Type String
If EN Do Not Update type parameter is checked, Add-in will not update EN Layers, EN Widths and EN Layers and Widths parameters (for example, if user manually edited the parameters and don't want them to be changed).
If type has EN Do Not Update parameter set to true (checked), it will be displayed in the tree, but in gray, with mark "NOT UPDATING".
EN Type String parameter will always be updated. It's purpose is to give general description (XML like) of the layers in the layered structure, which can be later used for comparison between types in different manner, depending on the checkboxes set-up in the upper right part of the add-in. For example, we can see which layered structures have layers of the same thicknesses, regardless of the materials. Or those which have same functions regardless of materials and thicknesses (and other options). Or those that are absolutely equal (all checkboxes must be unchecked).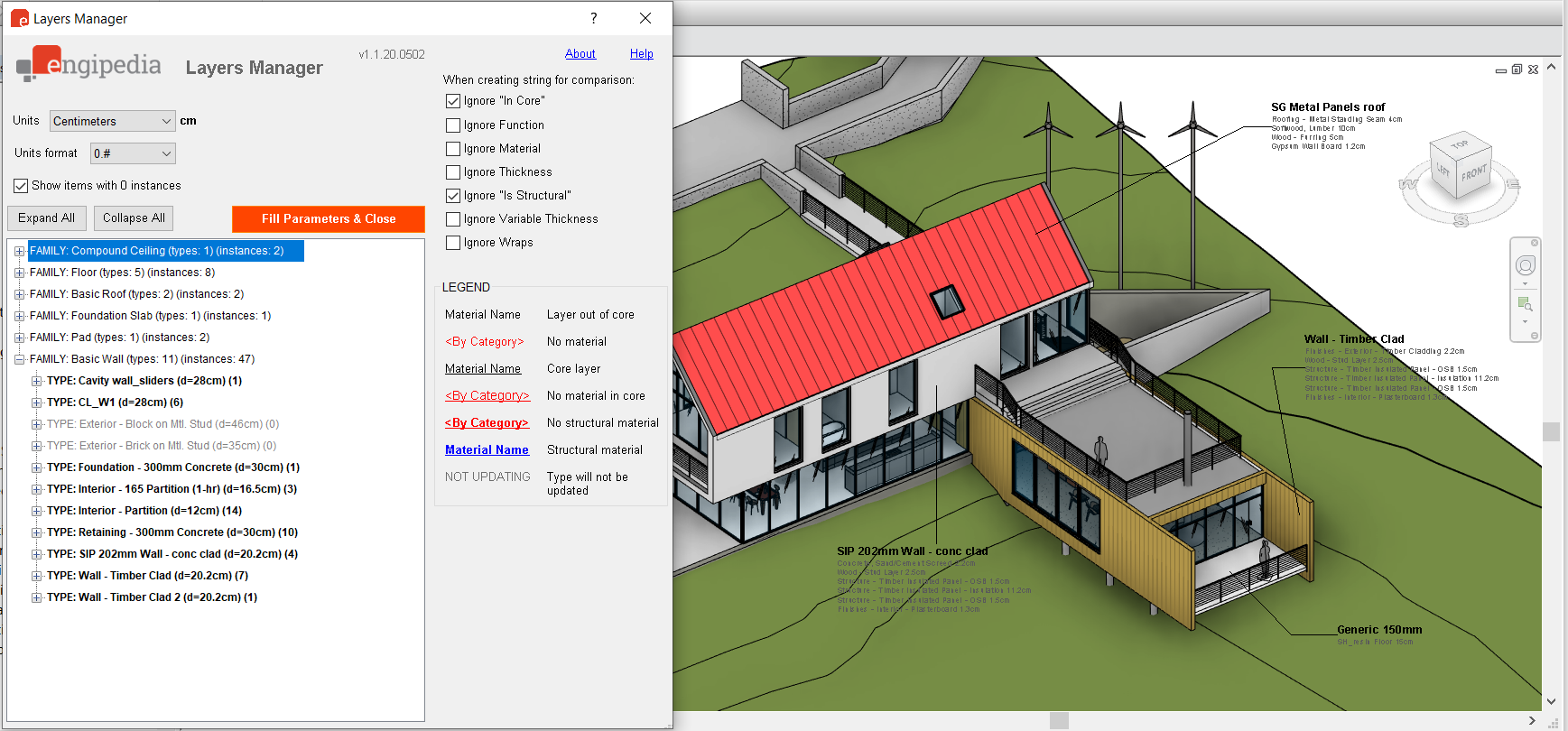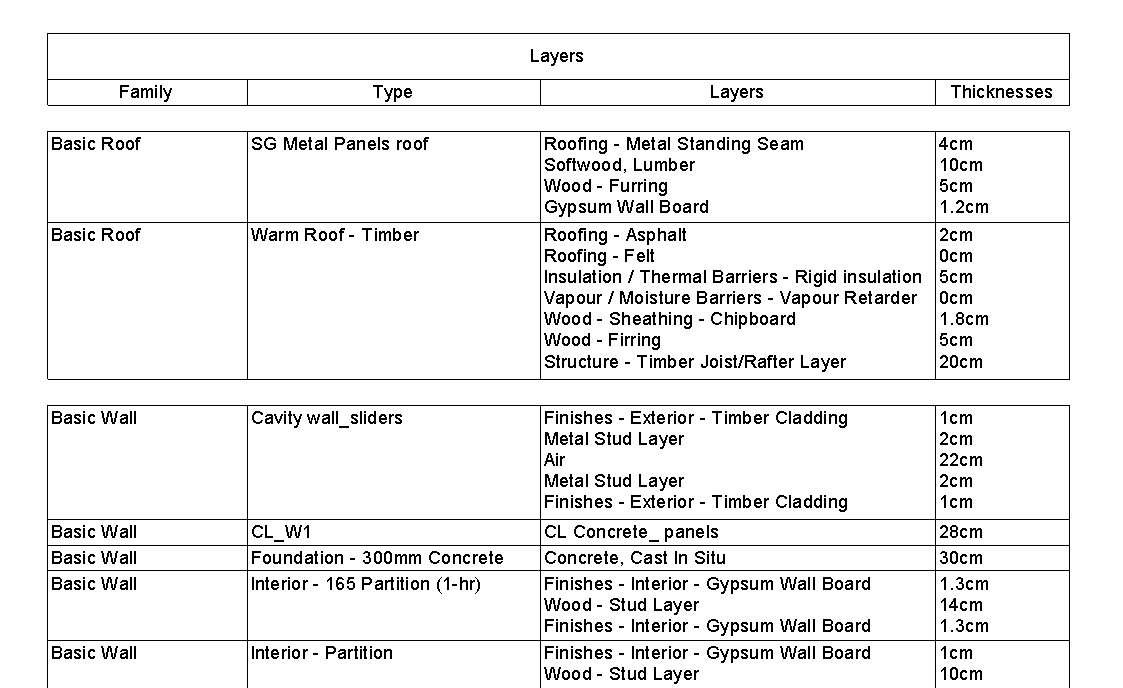 DISCLAIMER: The software add-in is safe and made with best intentions. Author tested the add-in on his system but there are no guaranties it will work on your system, nor can be responsible for potential damage. Please test the add-in on non-critical project first.