Kako promijeniti referencu Revit® familije bez pomicanja elementa
Promjena referentne razine ("Levela") instance Revit familije može biti mukotrpno, pogotovo kad ne želite pomaknuti element, nego samo zamijeniti referencu, a da element ostane na istom mjestu.
Kad to radite za određeni (jedan) element, to i nije neka drama, izračuna se razlika u visini (offset), promijenite level i upišete novu vrijednost razlike (offseta). Tako će se element vratiti gdje je bio (globalno), ali vezan za drugi level.
Međutim, što kad imamo nekoliko (stotine) takvih objekata? Što kad su na različitim visinama (offsetima od levela), i k tome referencirani na različite levele? Takva promjena ručno može potrajati jako, jako dugo. I još k tome ćete gotovo sigurno pogriješiti.
Još je gori scenarij kad imamo linearne objekte tipa bužire (conduits), cijevi (pipes), kabelske police (cable trays), ventilacijske kanale (ducts) i sl. Takvi objekti uvijek sa sobom imaju i fazonske komate (fittings), a ravni dijelovi mogu imati i nagibe (slope). Promjena reference ovakvim objektima je noćna mora. Revit za to nema naredbe, ili mijenjate ili modelirate ponovo. Također, zaboravite na copy(cut) i paste "Aligned to same place/level", to ne radi u ovom slučaju.
Da skratim priču, to se može relativno bezbolno napraviti pomoću Dynamo skripte. Slobodno preuzmite moju Dynamo skriptu kako bi pre-referencirali objekte. Skripta radi na sljedeći način:

Odaberite objekte (instance) koje želite pre-referencirati i zadržati na istom mjestu (tipka "Select" iz Dynama) .
Iz padajućeg izbornika odaberite jedan od levela u projektu na koji želite pre-referencirati odabrane objekte.
Skripta čita globalne (apsolutne) x,y,z koordinate svih odabranih objekata (instanci).
Među odabranim objektima, skripta traži parametre "Level" ili "Reference Level" (naravno, postoje i parametri "Base Constraint Level", "Host" i druge vrste parametara za referenciranje tako da je to ograničenje, ali će raditi u većini slučajeva).
Skripta će postaviti vrijednost tim parametrima na odabrani novi level.
Skripta upisuje nazad prethodno pročitane globalne (apsolutne) x,y,z koordinate u svaki odabrani objekt (instancu).
Pogledajte GIF ispod kako skripta radi na točkastim (ormar) i linearnim elementima (cijevima).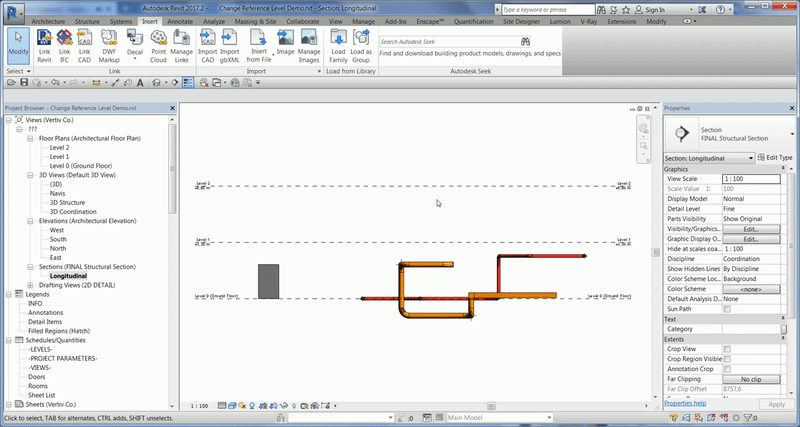 Možete također pogledati i video kako se skripta koristi (video je na engleskom):