Kako otpustiti Revit workset kad je korisnik nedostupan
Ukoliko je projekt Revit model postavljen kao dijeljenji (eng. workshared), ponekad se dogodi da netko od korisnika zaboravi otpustiti svoje worksete ("radne setove"?) (eng. relinquish worksets) i ode iz ureda. Ostavi vas u neprilici da morate izmijeniti nešto čega je taj netko vlasnik, a Revit vam ne da. Takve situacije izazivaju nepotrebnu frustraciju, srećom, rješenje je jednostavno. Postoji način kako otpustiti worksete čak i kad je korisnik nedostupan.
Doduše, postoji više načina, i koji god koristili imajte na umu da to smijete činiti samo ako ste apsolutno sigurni da smijete to napraviti jer neki korisnik može ostaviti zaključan određeni workset namjerno s ciljem kasnije sinhronizacije ili sl.
Primjena imena korisnika
Bezopasnije rješenje je promjena (vašeg) korisničkog imena u Revitu, pretvarate se da ste taj netko drugi i "otpusite worksete kolegi" tj. sebi:
Pokrenite Revit ili zatvorite sve otvorene projekte.
Kliknite na R (File) meni > Options.
Na kartici General u dijalogu Options:

zapišite ime trenutnog korisnika (trebat će vam kasnije, ako je komplicirano, zapišite ga, tj. najbolje copy/paste nekamo u txt file)
zatim umjesto tog imena unesite u Username ime korisnika koji vam drži worksete koji vam trebaju. Kliknite OK.

Sad Revit misli da ste netko drugi. Kreirajte novi lokalni model od centralnog (File > Open > odaberite centralni model).
Kad se otvori model, kliknite na karticu Collaborate na alatnoj traci, te zatim na naredbu > Relinquish All Mine.
Zatvorite taj lokalni file ( R (ili File) > Close).
Ponovite korakte 1. 2. 3. te vratite "staro" (vaše) ime u Username polje.
Kreirajte novi lokalni model od centralnog (File > Open > odaberite centralni model), ili otvorite prijašnju kopiju vašeg lokalnog modela.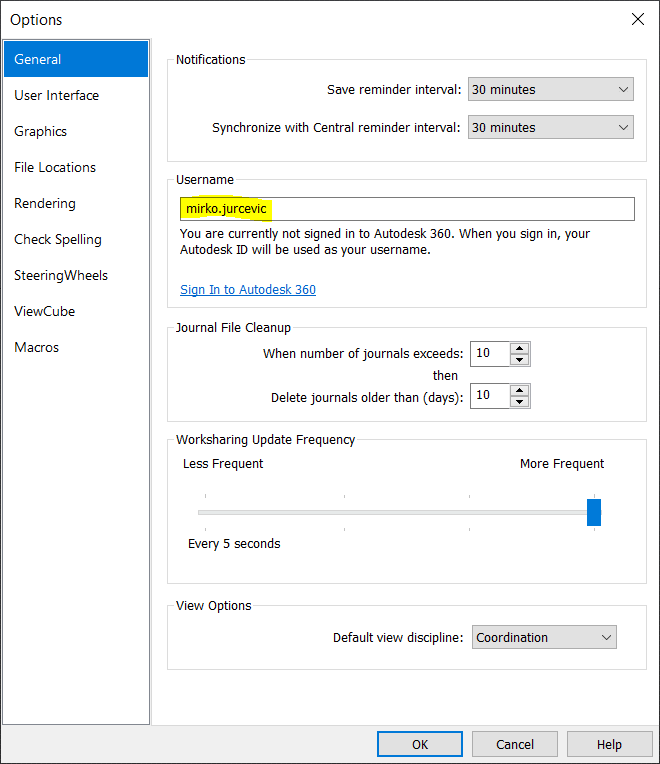 Odvajanje (eng. detaching) od centralnog i kreiranje novog centralnog Revit modela
Ova druga metoda je destruktivna i ne preporuča se jer tako možete uništiti drugima rad. Koristite ju samo ako ste 100% sigurni da ste vi jedini koji radite na modelu!
The other method is destructive and it is not recommended since other's work can be lost. Use it only if you are 100% sure that you are the only one working on the file!
U suštini, potrebno je prilikom otvaranja centralnog Revit modela odabrati opciju "Detach from Central" i zatim na upit odabrati "…preserve worksets…" opciju. Ovime ste stvorili model koji je i dalje workshared, ima sve iste worksetove i svi su u vašem vlasništvu.
Zatim je potrebno taj model spremiti kao novi centralni model, znači "Save As…" i spremimo ga na isto ili drugo mjesto, pod istim ili drugim nazivom (najbolje na isto mjesto pod istim nazivom, u suprotnom se može dogoditi da netko ostane raditi na "staroj" verziji, a netko na ovoj "novoj").
Otpustite sve worksete (naredbom "Relinquish All Mine" na kartici "Manage" alatne trake).
Zatvorite centralni model (File > Close).
Kreirajte novi lokalni model od tog novog centralnog (idite na "File > Open" i odaberite taj novi centralni model, Revit će po defaultu ponuditi stvaranje lokalnog modela u korisnički direktorij.
Sada se drugi mogu pridružiti, tj. mogu stvoriti ponovo svoje lokalne datoteke (stare lokalne datoteke modela neće više raditi jer to više nije isti centralni model).
Zapamtite, čitava poanta workshared (dijeljenog) Revit modela je da radite kao tim na istoj datoteci (na istom modelu). U većini ("worksharanih") slučajeva niste sami na modelu. Imajte na umu da petljanje s centralnim modelima može uništiti tuđi rad i napraviti ozbiljnu štetu.
Za provjeru dal netko radi na modelu možete koristiti i dodatni besplatni Autodeskov alat, tzv. Worksharing Monitor.