Vrste Revit® familija i hijerarhijska struktura
Hijerarhija Revit familija je osnova poznavanja rada u Revit-u.
Nepoznavanje ove jednostavne strukture najčešće rezultira poteškoćama i osjećaju izgubljenosti pri korištenju Revit-a.
Dakle, naprije o vrstama Revit familija. U Revit-u imamo tri osnovne vrste familija:
SISTEMSKE FAMILIJE – tj. one koje su u samom sustavu ugrađene, ne mogu se izvoziti u zasebne datoteke, postoje samo u projektnoj datoteci, a prebacivanje u drugi projekt iziskuje poseban postupak (Copy to Clipboard / Paste, ili "Transfer Project Standards"). Primjeri sistemskih familija su zidovi, ploče, stubišta, ograde itd.
PRAVE (VANJSKE) FAMILIJE – vrsta familija koja može postojati u projektnoj datoteci ili u vanjskoj datoteci (da bi ju koristili u nekom projektnom modelu, moramo ju učitati u projektnu datoteku). Kod ovih familija postoje puno veće slobode u kreiranju parametara i uvjeta ponašanja. Vanjske familije mogu biti dio sistemskih familija (npr. poprečni profil sistemske familije ograde je vanjska familija).
MODEL-IN-PLACE (TRENUTNE) FAMILIJE – ovu vrstu familija možemo kreirati u samom projektu, možemo im slobodno zadavati parametre i ponašanje (ova odlika ih čini najsličnijima vanjskim familijama), međutim, postoje samo u trenutnom projektu i nije ih moguće snimiti kao vanjsku datoteku (ovo ih čini sličnim sistemskim familijama). Model-In-Place familije koristimo iznimno i to u situacijama kad nam treba nešto brzo i samo na par mjesta u projektu.
Hijerarhijska struktura familija
Dakle, ako se vratimo na početak priče, bitno je poznavati vrste i hijerarhijsku strukturu Revit-ovih familija. Hijerarhija familija u Revit-u je jednostavna i kaže sljedeće:
Svaka familija pripada određenoj kategoriji. Kategorije su unaprijed određene programom.
Svaka familija može imati više tipova. Svi tipovi iste familije imaju isti set parametara.
Model gradimo instancama tipova određenih familija određene kategorije.
Ili, opisano slikom: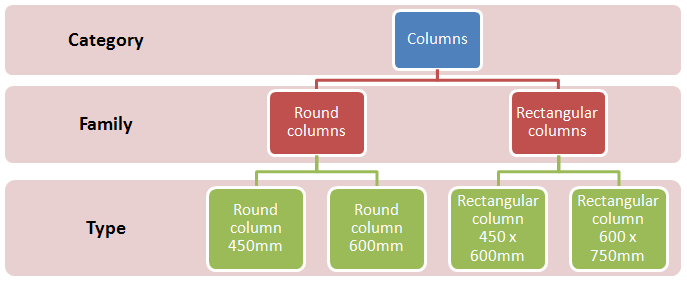 PRIMJER familije okruglih stupova i pravokutnih stupova.
Dakle, familija okruglih stupova i familija pravokutnih stupova pripadaju kategoriji "Columns" (stupovi). Kategoriju ne možemo birati, Revit to ima predodređeno.
Familija okruglih stupova ("Round Column") ima 2 tipa:
Tip 1: promjera 450mm
Tip 2: promjera 600mm
Ukoliko uzmemo ovaj promjera 600mm i postavimo ih 15 komada u model (izmodeliramo stupova), kažemo da smo izradili:
15 INSTANCI tipa 2, familije "Round column" koji pripadaju Revit kategoriji "Columns".