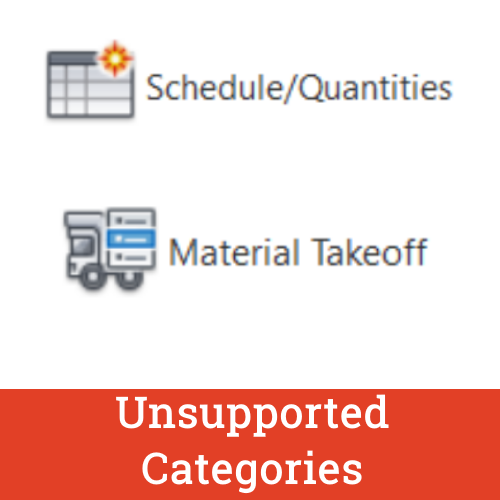 It is important to know that Revit® does not support all Revit® categories when creating Multi-Categories Schedule or Material Takeoffs. Look at the list of supported categories here.
Not knowing that may lead to omissions and wrong quantities.
The following two tables are listing unsupported Revit® Categories in Revit® Material Takeoffs and Multi-Categories Schedules.
Unsupported Material Takeoff Categories
Curtain Wall Mullions
Entourage
Fascias
Gutters
Planting
Railings
 – Handrails
Ramps
Roof Soffits
Slab Edges
 – Landings
 – Supports
Wall Sweeps
Unsupported Multi-Categories Schedules Categories
Areas
Assemblies
Ceilings
Curtain Wall Mullions
Detail Items
Floors
 – Slab Edges
Mass
 – Mass Exterior Wall
 – Mass Floor
 – Mass Glazing
 – Mass Interior Wall
 – Mass Opening
 – Mass Roof
 – Mass Skylight
 – Mass Zone
Multi-segmented Grid
Pads
Property Lines
 – Property Line Segments
Railings
 – Railings Balusters
 – Railings Handrails
 – Railings Supports
 – Railings Terminations
 – Railings Top Rails
Ramps
Raster Images
Roofs
 – Fascias
 – Roof Gutters
 – Roof Soffits
Rooms
Shaft Openings
Stairs
 – Stairs Landings
 – Stairs Runs
 – Stairs Support
Topography
Walls
 – Wall Sweeps
STRUCTURAL
Analytical Beams
Analytical Braces
Analytical Columns
Analytical Floors
Analytical Foundation Slabs
Analytical Isolated Foundations
Analytical Links
Analytical Nodes
Analytical Wall Foundations
Analytical Walls
Boundary Conditions
Structural Loads
 – Structural Internal Loads
 – Point Loads
Rebar Shape
Structural Area Reinforcement
Structural Beam Systems
Structural Fabric Areas
Structural Path Reinforcement
Structural Stiffeners
MEP
Analytical Spaces
Analytical Surfaces
Duct Systems
Electrical Circuits
HVAC Zones
MEP Fabrication Containment
MEP Fabrication Ductwork Insulation
MEP Fabrication Ductwork Lining
MEP Fabrication Pipework Insulation
Piping Systems
Spaces
Sprinklers
Switch System
Wires
Linked topics:
Podržane kategorije kod iskaza broja elemenata u Revit® tablicama